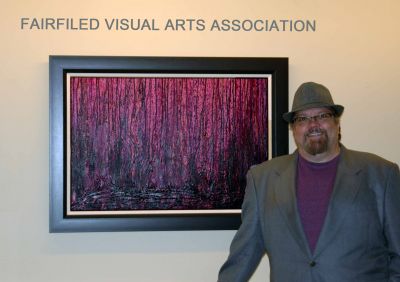 My art is a reflection of the abstract life I lead; often times calming and peaceful, other times frenzied and chaotic. My work has been described as loose and free flowing, yet structured and detailed – all the while, maintaining an "organic" feel.
Creating a painting can be challenging. When I pick up a brush, pallet knife, or even a spatula to start a new piece, I usually do not have a specific idea or concept in mind. I literally and figuratively start with a blank canvas and see where my mind takes me. My mood, the music I am listening to, and countless other factors in my life ultimately influence the colors, intensity, and complexity of the piece.
Creating illusions of nature using acrylic, with the occasional inclusion of gold or silver, infuses the work with the energy I feel while painting. It's my hope that as the viewer becomes lost in the work, they become charged with that same energy, while still experiencing the peaceful sense of visiting a strange and wonderful place.
Select Accomplishments
HONORED to be represented by CK Art Gallery in mid-town Sacramento. My work will now be exclusive to CK Art Gallery for sales in the Sacramento area.
HUMBLED to be selected as one of the artists published in the book Best Modern and Contemporary Artists of 2016, and presented with the award at a ceremony at Sternberg Palace in Viena, Austria.
THRILLED to be the FIRST PLACE winner in the prestigious 2016 FSVAA 53rd Annual Juried Art Show.
EXCITED to have my art selected by VIDA clothing company for use on their custom women's clothing.
FLATTERED to be nominated and elected as President of the Fairfield - Suisun City Visual Arts Association.
PUBLISHED in the April, 2015 Sacramento Talent magazine as their featured artist.
PRIVILEGED to be represented by Xanadu Gallery - one of the most prestigious galleries in Scottsdale, AZ.
SELECTED to be published in Studio Visit magazine. This magazine is distributed to over 2,000 galleries in addition to collectors and enthusiasts world-wide.
FEATURED in the Artist Spotlight at ArtProMotivate. Want to learn more about me and my art? Check out the feature at http://www.artpromotivate.com/2013/08/abstract-visual-artist-dennis-sheil.html
About Dennis
Dennis Sheil grew up in a small town in Iowa, and after spending 20 years in the Air Force, now lives in the Napa Valley area of northern California. As a long time art collector, he has been surrounded by the beauty of art for many years. This constant influence of art surrounding him fueled his passion for painting – as it still does to this day.
In addition to being an artist, he is a project manager and restaurateur. Being a businessman, he must stay focused on the details of his day-to-day activities. He says "abstract and non-representational painting gives me an opportunity to let go of the finite, structured details I deal with on a daily basis. It is incredibly liberating and rewarding to be able to 'dump the data, let loose, and let the paint flow."
Dennis is very interested in the effects of both color and texture, and enjoys blending his passion of those with abstract imagery. The organic look and feel of his work brings a refined and developed feel to his paintings through a unique balance of composition, color, and texture.
Delighted to be following his passion in life, Dennis expresses his love and enthusiasm for art in each painting. By removing most "objects" he creates something organic with a story only the current observer can relate to.
How to Appreciate Art
Unlocking the meaning behind a work of art is one of the many joys of viewing and collecting. But how do you actually interpret it?
Often, there is a veneer of elitism surrounding the art world, including the false idea that one must be "in-the-know" to truly appreciate artwork. I strive to remove this idea by making fine art available to everyone, and one way to open the doors to the art world is by learning how to look at artwork.
Art can be and do many things; it can be an expression of emotions, it can represent a feeling or idea. Art can make statements or simply be aesthetically pleasing to the eye. Regardless of the type of art, artwork requires context in order to understand the meaning behind it.
By examining a work of art, clues about its meaning can be gleaned from within the work itself. Looking at and comprehending art is all about taking the time to view, identify and think.
Look at the Art
Viewing the art seems like an obvious first step to understanding a work of art, but it's more than quickly glancing and drawing a conclusion. Before stepping back and taking in the artwork in, take a moment to identify the artwork's basic qualities, such as:
· Is it a painting, sculpture, or graphic work?
· Is it on canvas or another medium?
· Is the texture rough or smooth?
· Does it appear chaotic or organized?
· Is it large or small?
· Are the colors bright or subdued?
All of these are elements the artist chose when designing the artwork, so they warrant consideration.
It is also valuable to consider whether a different vantage point changes the artwork. This is especially important for sculptures, or works of art that transform at different angles.
Identify the Art and Artist
Aside from the visual elements listed above, knowing when or how the artwork was made reveals more context. The famous "Guernica" (1937) by Pablo Picasso is a sight to behold on its own, but knowing Picasso composed the painting in response to the bombing of the town of Guernica during the Spanish Civil War lends to understanding its anti-war symbolism.
Even if the historical context of an artwork is not apparent, knowing the year of its creation offers an idea as to the broader events taking place at the time.
In all cases, learning something about the artist undeniably adds to the appreciation of art. A fact as simple as knowing that my friend "Tim Yanke loves listening to music when he paints" gives a solid base to use when viewing his art.
Think About the Meaning
Use what you observed in the first two steps to think about meanings and narratives the artwork could have. The title of the art is a good starting point for many pieces, however I typically use abstract titles for my work.
Consider what the subjects or symbols meant to the artist when they created the artwork. What do the colors say about the artist, and how do they apply to the subjects in the art? For example, the owls in Lobe's oeuvre could represent wisdom, but why are they so brightly colored? Art like the luminous paintings of Simon Bull are not as difficult to interpret. In the case of more abstract or conceptual art, there may not be literal depictions of subjects or ideas, and therefore require a bit more thought.
In addition to the earlier questions, ask how the art makes you feel. Many artists, such as Michael Cheval, have specific meanings behind their art, but also encourage viewers to come up with their own interpretations. In this way, there is no "right" answer that must be reached to unlock the painting's mysteries.
Still, every interpretation is not automatically correct, which is why the techniques described above are helpful in finding clues. It is surprising how much of what you already know lends itself to understanding a work of art, so asking the "Who?" "What?" "Where?" "When?" "Why?" and "How?" questions may lead to great insights.
Discover Your Tastes
Applying these techniques to every work of art you come across may seem daunting, but just remember one important fact: You don't have to look at everything.
The idea of applying this technique to everything in a gallery is like going to a restaurant and eating every dish in one sitting. Doing so will probably leave you feeling overstuffed. Instead, find what you like and enjoy it, and know that if you want to try something different, it is available to you.
For instance, if you love abstract art but dislike photography, skip the photography. Keeping an open mind, however, is always encouraged, so don't be afraid to stop and observe something outside of your tastes.
The next time you are admiring a work of art, keep these techniques in mind, and its meaning may unfold before your eyes.
To try out your newfound powers of observation on some of the fascinating work by artist Dennis Sheil.